We Agree With DE: Tech Will Change Energy
Posted by Brittany Coombs
Forbes recently wrote an article about how Direct Energy's 'bill of the future' will revolutionize the way consumers use energy. In the article, Badar Khan, DE's president and CEO, was quoted as saying technology will push the sector to take a new approach to how it thinks about customers and how it relates to them. Historically, energy companies have, of course, enjoyed seeing customers use lots of power, as this meant more revenue for utilities. But this summer DE is rolling out a new bill (pictured below) that aims to "empower" customers, to use Khan's wording, by helping them use less of DE's product, which saves customers money.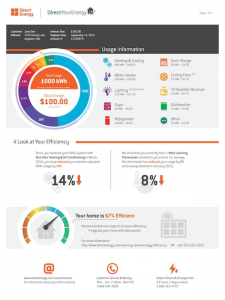 It sounds very counterintuitive—so why do it? According to Khan, DE is "trying to help customers reduce their consumption" because lower consumption means lower bills, which translates into a longer, more mutually beneficial relationship for both DE and consumers. "We are in a competitive market," Khan said. "And if customers don't like our value propositions, they can vote with their feet and walk away." DE has been able to implement this strategy by embracing technological innovation. "Innovation is the most material value creation for customers," he said, "and I think we need to deliver on the promises we made when we asked for restructured markets."
We agree with Khan's assessment: Now is the perfect time for energy providers to embrace technology to disrupt their sector and positively influence customers and consumption in new ways. Here are a few trends we think power companies can leverage to transform energy.
Replace legacy systems to drive bottom-line results.
The energy sector is complex and its infrastructure is old. Not just the grid infrastructure—the IT infrastructure is aging, too. We recently built and deployed a high-performance pricing engine that enabled our client, a nationwide leading energy company, to give its clients hundreds of contract options with real-time pricing. With this technology, our client's sales representatives could provide energy plans that were customized and appropriate down to the amount of green offsets, price protection, term, and optionality in fluctuating prices. We packaged this technology in an enterprise-grade mobile app, transforming how this industry leader does business.
Internet of Things is propelling energy toward a brave new world.
We are reaching a tipping point in the energy sector where technology is as much a part of the business as electricity or gas itself. IoT will enable both consumers and energy suppliers to access a host of management tools at a very granular level and will allow customers to have unprecedented control over how they use energy. Energy companies that embrace innovation and technology and consider them when planning product offerings will have a huge competitive advantage over companies that don't. Again, per Khan's announcement, this may seem counterintuitive at first, but the reality is that energy is a brave new world thanks to deregulation's increase of competition and the availability of faster, more accurate technology than ever before.
Opportunities exist in Big Data, if you know how to find them.
According to Gartner, 3 billion connected Things were used in 2013 and 35 billion connected Things will be in used in 2020. That's a more than 1000% increase—and all of those new objects will use or manage energy in some way. This massive growth in connectivity will lead to massive growth in high-velocity data. Unfortunately, most companies are not currently equipped to process Big Data and capitalize on its emergence. Technologies like Hadoop, Tableau, and Spark are a good start, but most energy suppliers face data challenges that can't be solved with those tools alone. That's because most suppliers find it difficult to (1) architect a data-centric ecosystem, especially where legacy infrastructure is in place, (2) determine what data is important, and (3) engineer a solution that enables data-driven decision making.
Now is the perfect time for energy providers to embrace technology to disrupt their sector and positively influence customers and consumption in new ways.

Embrace machine learning or be left behind.
Machine learning used to be too costly and cumbersome for businesses to use it. This left statistics and backward-looking data as the only "non-gut" business decision making tools. Cloud solutions, however, are making machine learning accessible to a new, wider range of solutions. For energy, this new accessibility—enabled by solutions like Microsoft Azure, for example—has real implications for load forecasting, pricing, and trading: all things that impact the bottom line. Building an experienced data science team naturally costs time and money, but not diving into machine learning can be an even costlier mistake. Energy companies that find qualified partners to guide them through applying predictive analytics to their business processes will have a major competitive edge over those that make decisions solely by looking in the rearview mirror.
Data scientists get a seat at the boardroom table.
Most organizations have an extensive C-suite, complete with a CEO, CFO, CMO, and more. But don't be surprised if a new abbreviation joins that list: CDO, for Chief Data Officer. At Fino, we have a CDO who heads up our data science practice. He, along with a dedicated team of bright, business-savvy data scientists, can translate massive amounts of data across many different projects into predictive business analytics. In other words, our CDO and his team use data science to help companies make more informed business decisions and achieve greater results. They do this by forecasting outcomes and then building software to take action based on those predicted outcomes.
How do they do this? Data scientists can take data sets from one part of a business and use them to identify and solve problems in other parts of the business. This post in Energy Central, for example, by one of our senior scientists, Dr. Alicia Powers, goes into great detail about how data science can transform the industry.
For energy providers, understanding these emerging data trends is the first step toward driving greater business value. Companies then need to deploy the right technologies and know-how to provide better services and products to their consumers. Suppliers that can do this effectively will be positioned to out-maneuver the competition and win the loyalty of their customers.
Tell us what you think @finoconsulting or by email.